Solel Spring Feast Plans 2019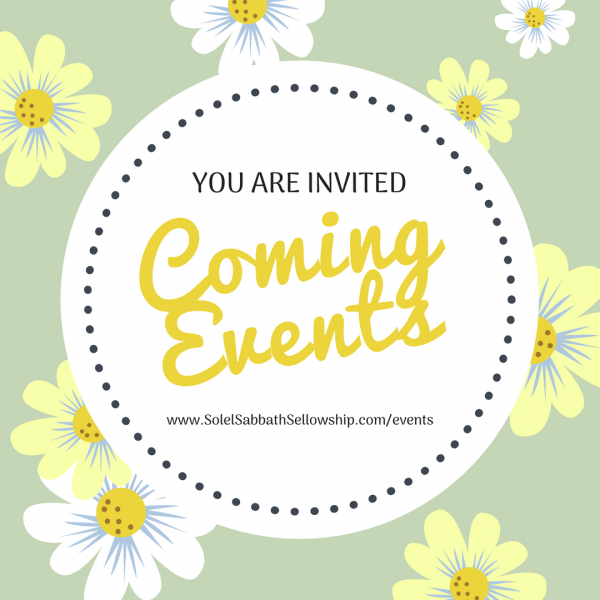 Passover – Saturday evening, April 20
As we have done in previous years, we call on our congregation to share Passover with their families and others whom they choose to invite to their homes. This is in keeping with the command that Passover was to be in the children of Israel's homes with their families, with a special emphasis upon teaching the children about God, what He did for the children of Israel, the covenant and His commandments, and Yeshua's sacrifice for our sins. We offer Passover Seders that you may print off on our website. Feel free to use these or one of your choosing.
Of all the feasts, this one alone has a commandment of who may participate. The Torah states that,
"…no foreigner is to eat of it; but every man's slave purchased with money, after you have circumcised him, then he may eat of it. A sojourner or a hired servant shall not eat of it… All the congregation of Israel are to celebrate this. But if a stranger sojourns with you… let all his males be circumcised, and then let him come near to celebrate it; and he shall be like a native of the land. But no uncircumcised person may eat of it. The same law shall apply to the native as to the stranger who sojourns among you" (Exodus 12:43-49, NASB).
Please keep this in mind as you ponder others you would like to invite to your Passover meal.
First Day of Unleavened Bread
This is to be a Holy Convocation (a set-apart gathering; Leviticus 23:7). Upon researching and studying the Scriptures — both Torah and through to the Apostolic Scriptures — we see no other gathering time mentioned on the actual first day of Unleavened bread beyond the meeting together in each other's homes for Passover. As such we plan to do the same.
First Sunday of Unleavened Bread (First Fruits) – Sunday, April 21
We will be celebrating First Fruits at the Elliott's home in Perry. This will begin at 12pm. We will be having a day of celebration as we remember Yeshua's resurrection as well as celebrating another year of harvests provided by YHVH our creator and sustainer. In an attitude of celebration, we desire to have everyone do an inordinate amount of singing and rejoicing. We will also take this time to do testimonies of Yah's leading in the past year, and a time for anyone who would like to provide a special (music/reading/blessing) that the Spirit of God may lay on your heart. We will follow the worship with a fellowship meal. Please bring a dish to share with everyone (you can read our food guidelines here), but if you're unable to, feel free to still come and be a part, as YHVH always provides.
Last Day of Unleavened Bread – Saturday, April 27
The last day of Unleavened Bread is also a Holy Convocation (Leviticus 23:8). We will tentatively be meeting at Perry City Hall at 4 pm. We will have a fun time of food, dancing, Bible study, games, etc. Please bring a dish to share with everyone (you can read our food guidelines here), but if you're unable to, feel free to still come and be a part, as YHVH always provides.
Perry City Hall
203 W. Polly Street
Perry, MI 48872
Shavuot – Sunday, June 9
Plans for Shavuot will be announced soon!
Sign up for our email newsletter list (below) so that we can let you know if we need to change plans.
If you'd like to learn more about the biblical feasts, you can download our free ebook here!
Stay Tuned!
To be notified of future events, please be sure to subscribe to our mailing list!



If you have questions, please don't hesitate to contact us. We look forward to seeing you!